Study programs
Aircraft engines are topics in two study programs:
Bachelor's studies introduce a field of study by teaching basic skills and knowledge. For in-depth study, you can next enroll in the Master's study program. Here, you can specialize and focus on your interests by doing your own research work.
The right engine – the key topic in aviation
The quest for the appropriate propulsion machinery has stamped aviation history since its beginnings. In developing propulsion systems, the foundations and applications from the most varied subdisciplines work closely together::
Fluid mechanics
Thermodynamics
Structural mechanics and dynamics
Materials science
Control theory
Construction design
When we want to convert energy with technology on our earth, for the most part we resort to turbo machines – that is, compressors and turbines. Because of so much overlap with aircraft engines, this is where collaboration occurs. Aircraft turbo engines and stationary machines each benefit equally from their development.
Challenges for the future
In both areas, urgent tasks are calling for action:
Improving fuel usage, i.e., a higher degree of efficiency in individual machines and overall energy conversion,
Reducing exhaust pollution, and
Reducing noise levels.
Contact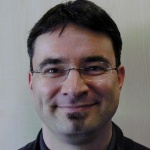 Christian Koch
Dr.-Ing.
Manager Altitude Test Facility, Academic advisor, deputy head of the institute