The aero engine industry's business models have materially changed in recent decades. The engine manufacturers have evolved from development and production enterprises into suppliers of mobility. They no longer sell the high-tech turbo jet engine, but instead how it performs in powering an airplane. TotalCare®, TEC® (Total Engine Care), CorporateCare®, Power-by-the-Hour und Fly-by-Hour are some of the names attached to these mobility offers.
Methods to forecast lifespan and performance
With this trend, the engine manufacturers and their competitors, the commercial maintenance, repair, and overhaul companies, are increasingly taking on operating risks of the airlines. To survive in this market environment, it is indispensable that they be able to forecast, at contract signing time, what will be the service life expended and performance degradation of aircraft turbo engines.
Engine manufacturer must monitor aircraft and engine operations by the respective airline, which is their customer. This is done using life cycle analysis. The Institute for Aircraft Propulsion Systems has developed numerical methods to forecast performance degradation and residual service life for modern civil aircraft turbo engines at realistic operating conditions. These methods are based on physical models which are derived from our numerical and experimental work at the ILA facilities.
Contact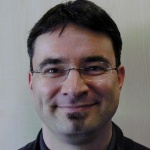 Christian Koch
Dr.-Ing.
Manager Altitude Test Facility, Academic advisor, deputy head of the institute